My love of unconventional travel started when I was 12 years old. My dad had decided that, of all the ways to spend Christmas, we should go on a cycling tour around Cuba.
And so we did it.
We figured out how to get bicycles on an Aeroflot flight from Shannon, Ireland to Havana, Cuba. Turns out, it's pretty easy once you get your hands on a bike shipping box from your local bike shop.
With just an address as a contact on arrival, we disembarked from the airplane, put together our bikes, and cycled across Havana to our destination.
The sense of adventure, unpredictability, and the slight edge of danger hooked me immediately.
Ever since, the few packaged trips I've been on have been woefully boring in comparison. Sure, included flights and pre-booked accommodation and meals planned makes it effortless, and you know in advance what you're signing up for. But it also reduces much of what makes travel so fun for me: the unpredictability, the sense of adventure, and the experience of trying new things.
Unconventional travel offers very different experiences from the ones on offer from package travel providers: working on organic farms in rural Bavaria, Germany, to living in a van along the empty Portuguese Alentejo coastline. These aren't the options you'll find advertised in a travel brochure, but they can be a fascinating way to see the world.
Below I've put together a list of experiences that I've tried down through the years.
Unconventional Tactic #1: WWOOFing on Organic Farms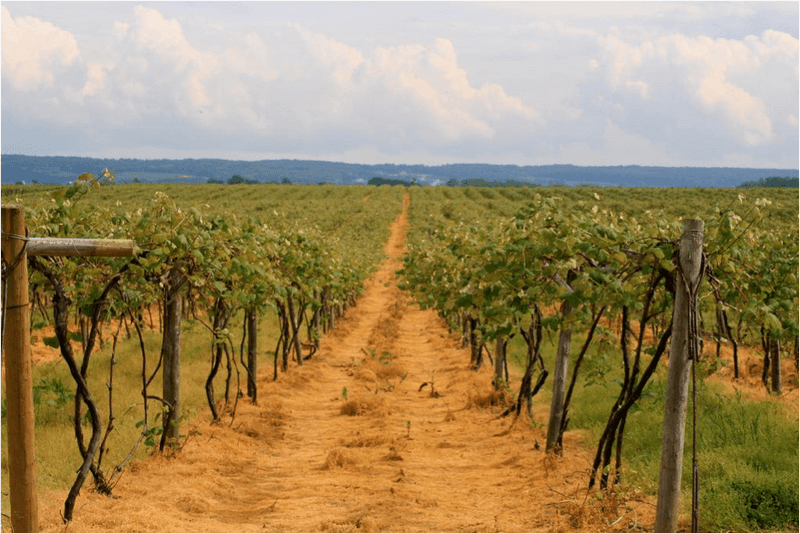 Photo by MissMessie
Growing up on my parents' organic farm, I came into contact with WWOOFing very early on. We had regular "WWOOFers" stay on the farm from places such as Germany, France, and the USA.
In fact, we had so many Germans stay that my siblings and I developed a mental model of Germany as a land of vegetarian, Birkenstock-wearing, ecologically-minded organic growers.
You can imagine our surprise on our first trip to Germany when we encountered the Bavarian focus on beer, large chunks of meat, and fast, expensive car.
But I didn't let this initial shock put me off Germany. At university, I spent an exchange year abroad in Erlangen.
Coming up to a two-week mid-term break, I was thinking of how I could spend my vacation. Wanting to brush up on my German and lacking funds for an expensive road trip through Europe, I opted to spend two weeks on a small organic farm in western Bavaria close to the Alps.
WWOOF stands for Willing Workers On Organic Farms or WorldWide Opportunities On Organic Farms, depending on who you ask. Either way, it's a network of 120 national organizations that let you work on farms around the globe in return for food and board for anywhere from a couple of days to a couple of months.
For many, it's a way to experience the culture close up and develop relationships with locals. At the same time, you develop agricultural skill and contribute to more sustainable farming practices.
Unfortunately for my German, the family running the farm spoke a Bavarian dialect, so I spent most of the two weeks trying to get up to speed on the dialect rather than perfecting my German. However, I had a very interesting, authentic immersion into Bavarian rural culture, and I did get to learn some Bavarian dialect.
Tips for being a successful WWOOFer are to highlight to potential hosts the type of skills you could offer and to have a clear common understanding of what's required for both sides. You don't want to start on a farm in the midst of harvest season if you're expecting a few quiet hours of work a day!
Unconventional Tactic #2: Couchsurfing Instead of Hotels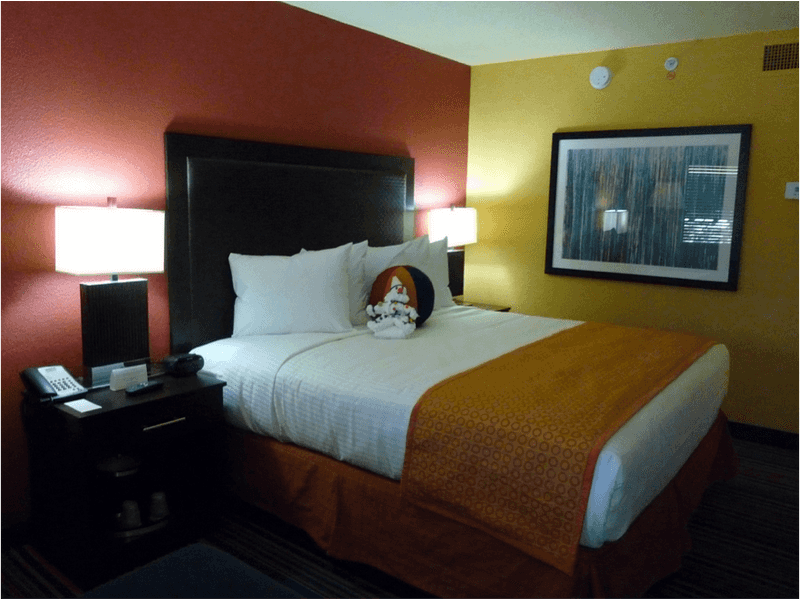 Neat, predictable…and boring? · Photo by Leigh Caldwell
I can't say that I've ever made a life-long friend from staying in a hotel.
But I certainly can say that I have such friends via CouchSurfing.
Growing up in Ireland, my family hosted the occasional CouchSurfer who ventured down to the less touristic South East coast.
One particular CouchSurfer brought some kitesurfing gear with him to test out on a local beach. My brother and I got on so well with him thanks to our common interests that the friendship endured down through the years.
A few years later, I visited him in his hometown in Germany, and a few years after that we went on a road trip to Northern Denmark to spend a week kitesurfing at the Ringkøbing Fjord on the North Sea.
In contrast, hotels, even boutique hotels, tend to have an anonymous, lifeless feel to them. You're just one more guest staying at the hotel. Often, you don't get the opportunity to get to know anyone passing through.
At first glance, CouchSurfing might seem a great way to save on an expensive accommodation. That's true, in part. However, I'd argue that you won't be successful if you treat your CouchSurfing host as a free hotel.
Instead, I've found CouchSurfing to be an intense, social experience where you may end up partying late at night or learning new skills such as juggling and slacklining or going up on a road trip together. Other times, the host just left me to my own devices. In this sense, CouchSurfing will be a much more unpredictable, exciting experience than a commercial provider.
As with WWOOFing, it's critical to send personalized messages to potential hosts about why you'd like to stay with them and introducing yourself. In my experience, when you live in a large, popular city such as Paris or Berlin, you'll get bombarded with one-line requests asking "Can I stay at your place for 3 nights? Thanks!"
Nomadic Matt lays out some great tips for CouchSurfing, including starting as a host first to get some references, sending out personalized emails and making sure to contact multiple hosts to improve your chances of finding a right fit.
Unconventional Tactic #3: Take Advantage of Off-Season Deals
I try to structure my career around being able to travel for extended periods while still working on the road. For a few years I ran a legal translation business that let me spent a winter surfing in Guadeloupe and, another time, train with the CrossFit champion Annie Thorisdottir in Iceland.
This flexibility gives you the opportunity to take advantage of low seasons deals. The simple advantage at play here is that you get to experience destinations that would be far more expensive during the peak season.
For example, I was recently in Greece in February. After a few days in Athens, we wanted to see some more of the country. Opening up a flight comparison site, we found incredibly cheap flights to the Greek island of Santorini. We were able to stay in the near-deserted town of Oia for a fraction of the $500/night that you pay during peak season while still enjoying the sun.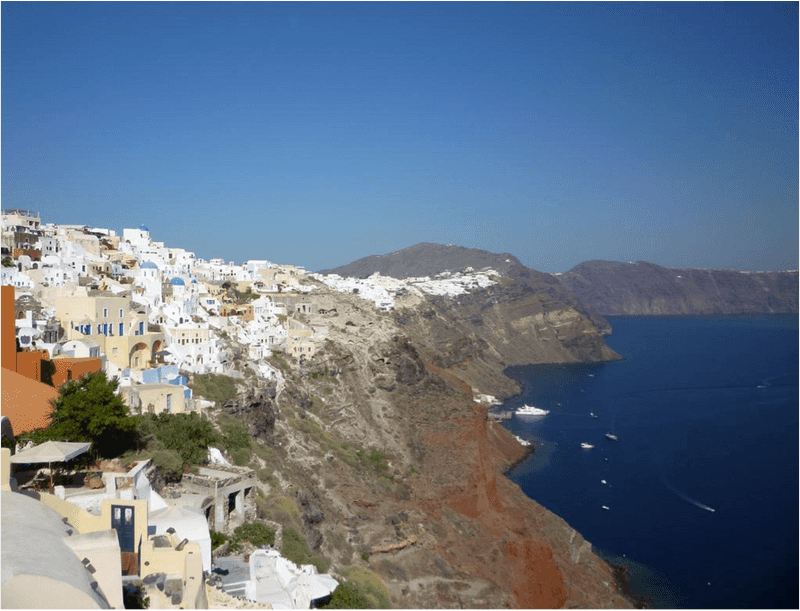 Oia, Santorini, Greece · Photo by Pat Guiney
In the same vein, a couple of years back, I spent a winter surfing in Guadeloupe in the Caribbean. At the time, a local surf camp was unusually quiet for the time of year, so the owner let us stay for a highly reduced rate for a month. I was able to work every morning from the surf camp common area and then spend the afternoons surfing with the people staying at the surf camp.
Put simply, if you're willing to travel at different times or go to different places than most people go, you'll reap the benefits of lower cost travel and more unusual experiences.
Unconventional Tactic #4: Testing Out Van Life and Surfing
I find when I live in a new place for longer than three months, I start to get stuck into a routine.
For me, travel offers the opportunity to try out new experiences and new ways of seeing the world.
To give most my recent example, I'd been following #VanLife accounts on Instagram and was curious what it would be like to live in a camper van. Obviously, buying a van is a big step.
So, my girlfriend and I tested out the idea by renting a vintage VW transporter in Portugal for a week.
Meet Charlotte: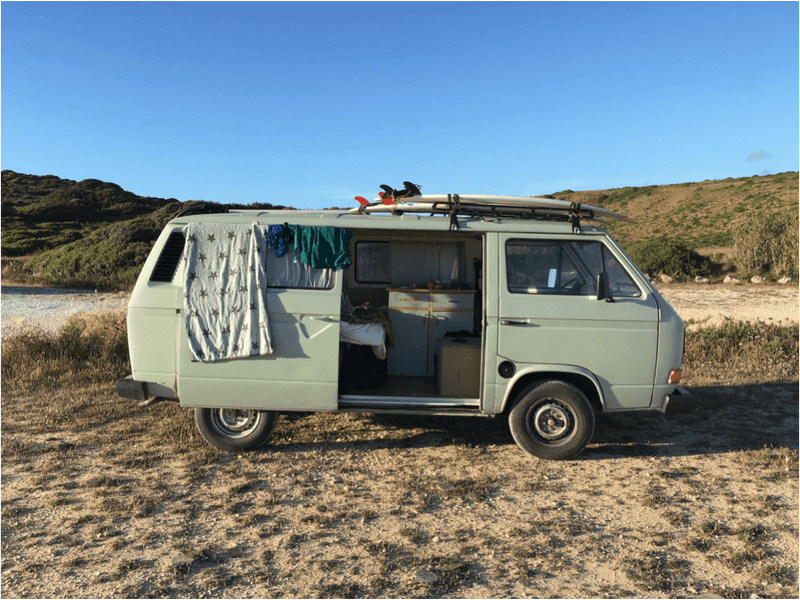 We spent a week driving up and down the Atlantic coast trying to find waves that were small enough for our beginner surfer skills while sampling amazing Portuguese wine and seafood.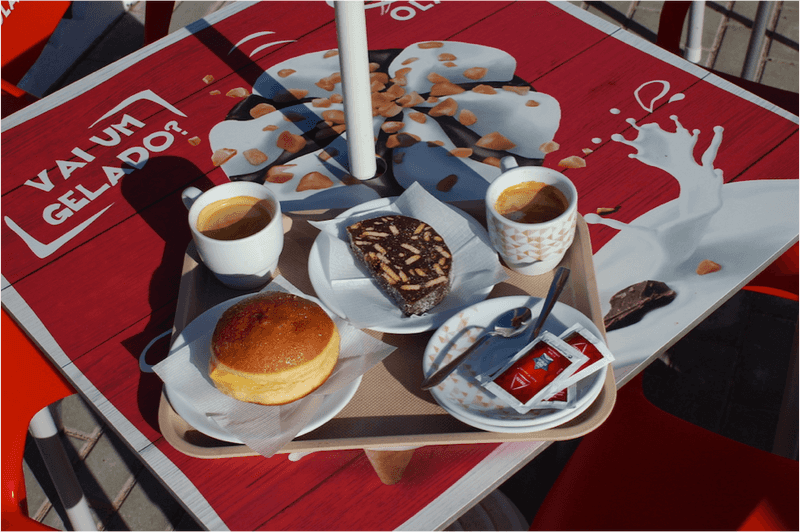 "Bolos" (Portuguese for cakes) and Americanos
While living in a van was just an abstract idea before, now I feel like I have enough initial experience to move forward with a longer trip, perhaps a three-month tour of Europe.
Make Travel Work for You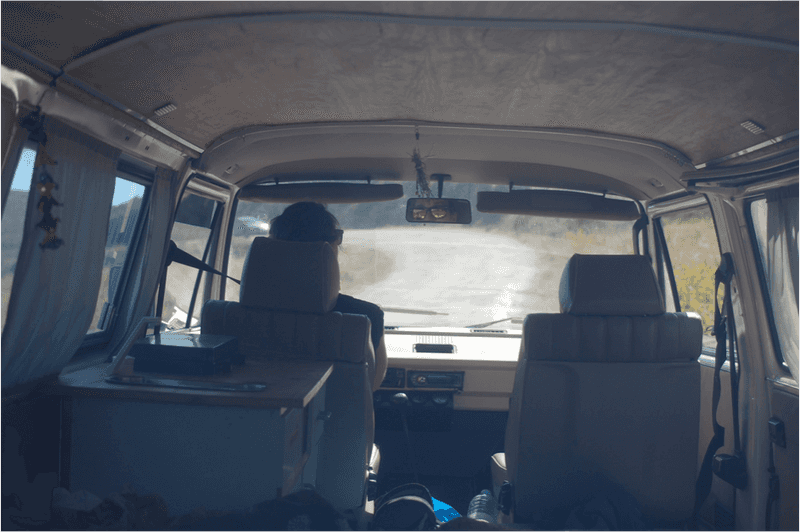 For me, unconventional travel has let me travel for longer, see more of the world, while still making it work financially.
It's not just about a life of leisure. Sometimes that means I have to hunker down in a cafe to hit a deadline while the surf is perfect. Other times, I've travelled to destinations that weren't really all that great. For example, my girlfriend and I booked flights for three months to Guadeloupe, but we quickly realized that three months was too long for such a small island.
But at the same time, it's amazing to reconnect months and years later with people I've met along the way, whether in a co-working space in Thailand or in a surf camp in Guadeloupe.
You really can create your own adventure a la carte, whether that's spending a month hiking in the Rockies in Canada or working on a vineyard in France.
That, I think, is the essence of unconventional travel.
---
Thomas Carney writes about minimalist travel, packing lists and merino wool clothing over at MerinoWoolRocks.com