Welcome to #DifferentLifeStories, where Without Boxes shares how people are living differently right now in the real world.
Enter Hayley Turner (a.k.a. Little Foot):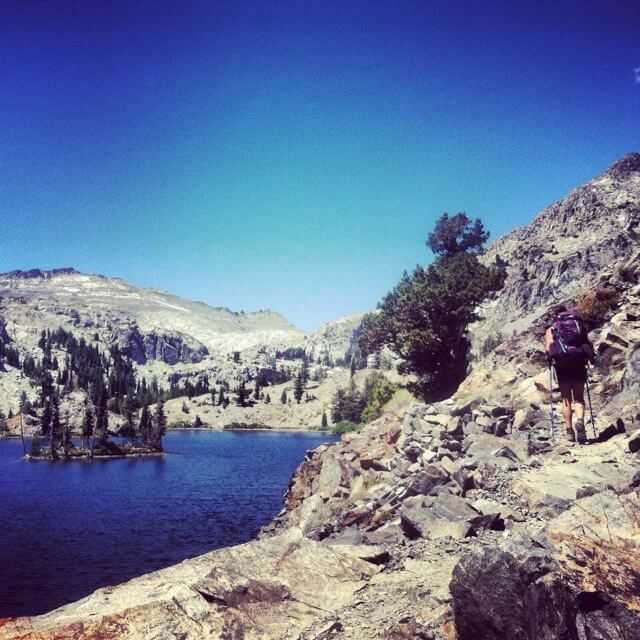 I can still remember everything about that day, from waking up and walking 12 miles by noon, the dogs that I played with in the ride I hitched to Lone Pine, the coffee shop I found, the couch I sank into surrounded by wires as I charged my phone and portable chargers, to finally making the phone call that would change my life. I never wanted to be a solo-female hiker. Some may argue that I even did everything to avoid it. Somewhere in my walk in life I grew to really love my security blankets. I would only push my limits as long as I knew I had something to fall back on. But there I was, sitting in a coffee shop covered in dirt and having just quit my job, broken my year lease and broken up with my boyfriend of two-and-a-half years who was also my best friend. I was alone: No one to tell me everything will be ok, no one to get reassurance from, just me.
Last summer I ruined my life in the best possible way. I had some time off from work and had set out on a long-time dream to do a long section of the Pacific Crest Trail. I know what you're thinking: "Great, here's another Cheryl Strayed wanna-be." But that's the thing about walking day in and day out with only your inner voice to keep you company. You start to see what you want, who you are, and what you've been lying to yourself about. It's a terrifyingly beautiful thing.
I had originally planned to hike 600 miles of the trail, but as I got closer to my end date something told me I wasn't done. This trail that wrecked my feet and bruised my body had more to teach me, and I had to listen, so I decided to walk 800 more miles.
There I was in the coffee shop, a solo-female hiker, and I was terrified. I stood up, wiped the tears from my cheeks threw my pack onto my back and started my journey.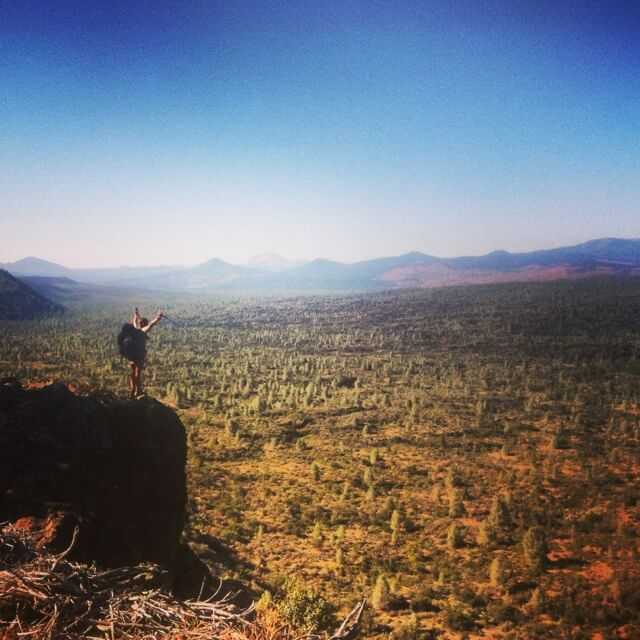 What was to follow was an amazing whirl-wind experience of starting to find my wild natural self. I learned to be patient and take risks. That as a female I had great intuition and to rely on that. After the trail I was determined to share my love for nature with anyone I could. I became a ski instructor in Telluride, CO, and in the summers I work as a Hike Master in Estes Park, CO. Sure, to some I live an unconventional, unstable life, but to me I'm living my life to the fullest as a solo-female hiker!
The funny thing about being a female in the outdoor industry is that people often think we are afraid to get into the outdoors alone. While I do believe we get quizzed more than our male friends ("Are you taking pepper-spray?," "Aren't you scared of creepy people?" and my personal favorite, "What does your poor mother think of this?!"), I think women have just as much of a thirst to explore the outdoors as men. Who doesn't want to see breath-taking sunsets over beautiful vistas, and swim in high alpine lakes surrounded by wildflowers? While in years past outdoor activities like thru-hiking, camping, fishing, and rock climbing were reserved for young strapping men, times are a changin'.
While hiking the PCT I had the privilege of meeting people from all walks of life, from eight years old to 67 years old, men, women, engineers, photographers, writers, lawyers, and we all had a right to be there. It doesn't matter if you have been hiking since you could walk or if you've never stepped foot in the outdoors. When we explore we grow an appreciation for the Earth and how it works. I think that is an amazing and valuable thing for all to experience.
So here you are, with a thirst for adventure, you're ready to hit the trail! But you've read the news lines, Lost hiker, Missing person found after surviving two weeks alone in the backcountry, and all of the other headlines that outdoors women and men like us want to avoid. The most important thing about going into the backcountry is knowing how to do so safely. There are thousands of different opinions on how to be a safe outdoors women. The advice below is just how I did it and my personal experience on how to be a solo-female hiker.
Know Before you Go:
Be brave
As a female you have an amazing intuition. Learn to listen and trust that voice in your head. If you have a bad feeling, there is probably a reason. As adventurers we want to push our limits.
Pushing limits a great way to grow and learn about yourself; just make sure you do it wisely.
Take a Wilderness First Aid course (WFA)
The backcountry is called wilderness for a reason. It is wild and unpredictable. It is extremely important that we are as educated as possible to keep ourselves safe. Hopefully you will never have to use it, but better safe than sorry!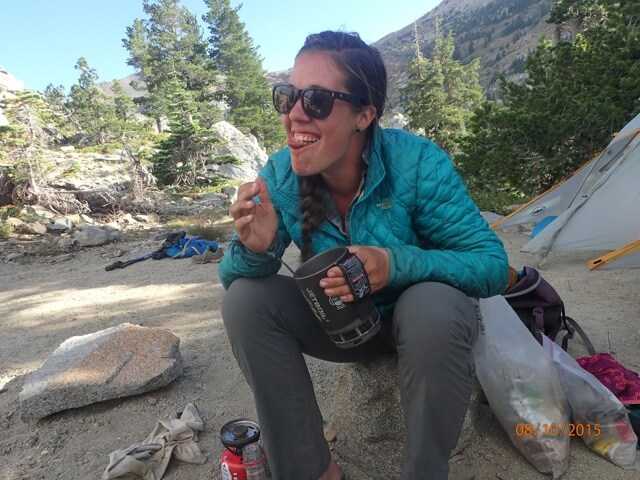 Learn to use a map and compass
We live in a time where technology is relied on for everything, including our adventures. While GPS devices are amazing and I relied on one heavily, knowing how to use a map and compass is a useful skill to have. We all know technology can fail.
On the PCT I used an app that told me where I was on the trail and how far I was from destinations. I went to check it at one point and realized I had some how accidentally erased it from my phone. I had also once temporarily lost my portable chargers in Yosemite. Trust me, maps and compasses must haves, as well as the knowledge on how to use them.
Never forget your three W's
As we all learned from our friend Aaron Ralston (the guy who got his arm stuck under a boulder and made a movie out of it, 127 Hours) telling people where you are going can be the difference between life and death.
Telling a friend:
Where you are going,
Who you are going with (if anyone) and
When you will return is a great habit to get into.
I have a friend I always text and she always texts me when we go into the backcountry. That way if I don't return, people will know where to look for me.
Check the weather
You'll learn in your WFA class how important it is to dress and bring the appropriate layers on your adventure. Hypothermia is no joke and can come on quickly. Bringing layers and extra clothes will keep you dry and happy. Knowing the weather will also let you plan your day. If storms are supposed to role in the afternoon, you probably don't want to be climbing above tree-line after lunch.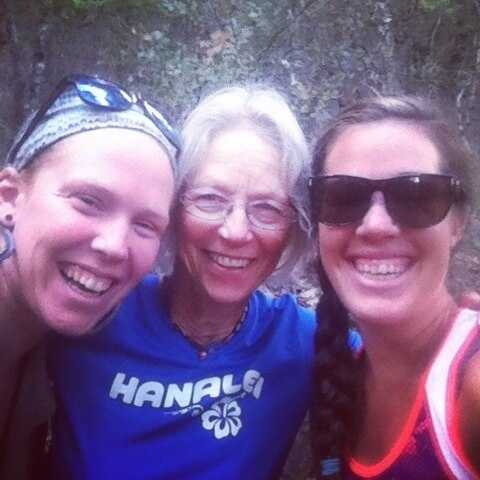 Get advice
Don't be afraid to ask people advice on good hikes and gear. Hikers love to share their experiences and you can save yourself a lot of time on Amazon reading reviews by asking your friends.
Keep in mind however, that these are their opinions. I once sat on a bus for half an hour listening to a guy tell me all of the gear I bought for the PCT was worthless and that I needed to return it immediately. He left me convinced I was going to die on the trail never to be found or seen again.
Here I am, healthy, happy and with 1,500 PCT miles under my belt. The only piece of gear I replaced was my tent. So take advice with a grain of salt and don't let anyone make you feel dumb. It is all a learning experience and almost every hiker out there will tell you they have gone out looking ridiculous with too much gear or not the right kind of gear, but wearing a huge smile. Be patient and take your time to learn whats right for you.
Go Shopping!
I may not relish the idea of walking around a mall shopping for cute clothes but put me in a gear store and you won't see me for hours.
Pamper your feet
Our feet are amazing things that carry us over mountains and through deserts. Don't ignore them. I met another solo-female hiker on the trail who taught me the importance of proper footwear. We all have different feet so something that works for me may not work for you. Go to an outfitter that knows what it's doing and get properly fitted for a shoe. All too often hiker get off trail because of foot ailments.
Get fitted for a pack
Your pack will become your worst enemy and best friend. It will carry everything you need and act as a back rest when you take a break. Chose wisely. You want something comfortable that will distribute weight evenly. Once again packs fit people differently, so get the right one for you.
Give your mom some peace of mind
Thanks to technology our moms don't have to worry about where we are because they can check our locations at anytime. No, not the iPhone location tracker. Get a GPS like a S.P.O.T so your family can go online and see where you are at as well as receive pre-written text messages. You can also alert search and rescue if you find yourself in an emergency.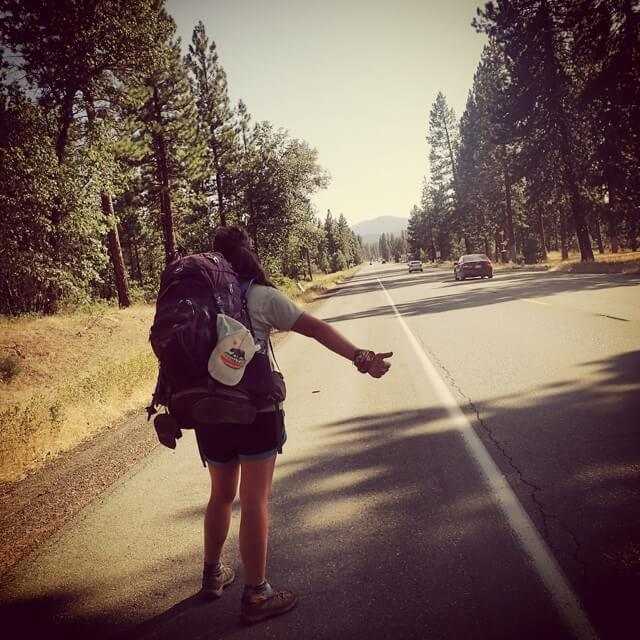 Clothes
Like I mentioned before, you want to have the right clothes. Try to stick with moisture wicking clothes that will keep you dry. I hiked with a Solomon running shirt, running shorts I bought at Target, Patagonia hiking pants, a pair of wool toe socks from Injinji, compression running socks from Feetures, and a North Face puffy and rain jacket. I also had thermals to sleep in and for those colder days.
Make it yours
You're a female in the outdoors. If you want things to be colorful do it! If you want neutral colors do it! Maybe you want to be outdoor chic or you could care less what you look like as long as it works its your hike. This is your experience. I personally like colorful packs and my thermals had the galaxy on them, but that's me.
Hike Your Own Hike
Hikers say it all the time on the trail. When you go into the outdoors it is about how you commune with nature. There is no right or wrong. OK, when it comes to safety there is, but hopefully if you've taken your first aid course you will be educated on the do's and don'ts of safety in the outdoors.
Everyone will experience the outdoors differently. Some people want to make miles and bag peaks, others want to meander, enjoy the flowers and sit by alpine lakes. Some people like to do both. Part way through my hike last summer I got really tired of hearing about hikers trying to make miles. I ran into another solo-female hiker and we decided to hitchhike up the trail and hike south for a while. This is not a traditional way of doing things, but it worked for what we wanted to get out of our hike. Some days we hiked 12 miles; others we hiked 30. That's just how I hike. Like they say, "You do you."
Like I said I never planned on being a solo-female hiker, but I am so grateful I became one. I still struggle with trying to create security blankets, but I'm getting better at not letting them form. I have learned so much about myself by getting outside alone, not just thru-hiking, but from trail running, day hiking and even just sitting by a lake alone.
I've also made some amazing friendships while being out alone. There is a deep connection between solo-females in the outdoors. We are very encouraging and supportive of each other. Usually after a time alone in the wilderness I love talking to these women about what I find about myself.
So that is how I became a solo-female hiker, what I've learned and how I've grown as an outdoors women. My journey is not over. Don't let fear hold you back, get out there, push your limits, but listen to your intuition, pack your pack, lace up your shoes, hit the trail and #hikelikeagirl!