Life alone in a new city is a rough prospect. We're all out here trying to make it, looking for tips on how to make this work as best we can.
Trust me – I've moved to new cities plenty of times by now, and quite often alone. It can be rough but the results can also be so worth it. My first big move was in 2013 and looking back, I am happy to pass on the lessons I learned in hopes it makes your transition a bit smoother.
By the end of this article, you should have a good view on how to prepare yourself for the journey to the new city, as well as steps to begin building a new life for yourself once you arrive. Let's dive in!
How I Moved By Myself to Austin, TX
"Do you mind if we sit here?"
Two women ask for the seats next to mine. They're in town for a business conference, and chose to explore the infamous 6th Street of downtown Austin. I was simply there to watch the open mic night.
My new friends sitting next to me at the bar gush, having heard my story. "You're so brave! I have always wanted to travel and live like that."
It feels odd to say, but I've been told this (in more or less words) hundreds of times over the years. It's really become quite the list at this point:
Exploring the states on a 7 month, 48 state road trip in 2012
Moving out to Austin, TX on my own in 2013
Jetting off to see the world on a 9 month tour in 2014
Taking a solo bicycle tour in 2015
By now, people certainly seem impressed with my credentials in bravery. I almost take it for granted. But there's something you should know.
Everyone is afraid of change. Everyone is afraid of the unknown.
The real secret is that I am afraid, too.
No matter why you're doing it, moving to a new city on your own is a journey in self-discovery. Finding yourself is terrifying. Yet, learning to rely on yourself is next to impossible. At least, not when you're surrounded by the people you have depended on your entire life.
With this in mind, I'd like to share with you this How To guide I've written for anyone else trying to hack it in a new city. It's a lot easier to find your way with the help of someone who has done it before you. (This is not a one-size-fits-all guide. But, I hope it will offer insight based on my experiences after much experience doing it myself.)
So, how do you handle moving to a new city all on your own?
Step 1: Pick Your New City

For one reason or another, you're ready for a change. You want a new city, something interesting and distracting. Somewhere you've never lived before.
(Pardon this very USA based segment of the article.)
Most of you probably have a good idea about where you want to be.
For me: I wanted to move somewhere 1,000+ miles away from home, preferably get off the West coast (since I'd been there my whole life), yet keep the friendly and open-minded vibe that my current city had to offer. I am from San Diego, CA and decided on Austin, TX. I do not regret my decision.
Here's a list of my top 5 favorite US cities (that I would live in) with my thoughts on why you would maybe choose them as your destination of choice:
Austin, TX
Open minded and quirky. The city tagline is "Keep Austin Weird". Lots of hipster places, but you can find subculture for almost every niche imaginable. Great place to be if you're into food, live music and local business. Affordable, but rapidly growing. 2. Portland, OR
A really green Austin, TX on the west coast – with more of an emphasis on biking and local art rather than music. Amazing bookstores, strange local cuisine, and more of that hipster vibe. Mostly affordable. 3. San Francisco, CA
Cool all year round, in danger of getting swallowed in a tsunami, but one of the most diverse and fun places to be. Incredibly expensive, but features amazing food, photo opps, and fantastic people watching. Great place to be if you're looking for a career in tech and like the fast lane lifestyle. 4. Asheville, NC
A small granola city on the East Coast, optimal to live in if you have any kind of restrictive diet. You can feast on gluten free, low sugar and locally produced food of all kinds – and it's all delicious. Somehow manages to feature great live shows from great bands. Perfect if you want a small town, sustainable-lifestyle experience. 5. Richmond, VA
Fascinating architecture, affordable rent, and incredibly bike friendly drivers – conveniently located near Washington D.C. and thrilling outdoor experiences. If you don't mind an East Coast lifestyle, enjoy friendly people and revel in quiet local businesses, this is the place for you.
Step 2: Know What to Expect on Arrival

It's only a small step in the journey, but actually getting to your new city is a more emotionally traumatic experience than one might think.
You may be taking a plane, a car, a moving van, or any number of options up to packing and hiring removals (find out more about the ones I've picked)… Here's a quick overview on what you might expect.
1. Somewhere to sleep
Presumably, no matter how last minute, you've found somewhere to stay when you arrive. Whether it's an acquaintance, a friend of a friend, a CouchSurfing connection, a hotel room, or a hostel, it's best if you have somewhere to sleep. The last thing you need is to be scrambling for a 24-hour Walmart parking lot to sleep in by yourself.
Stay in touch with whoever you're staying with, so that they're ready for your arrival when you actually get there.
2. Be prepared: Know your route
If you've never been to the city at all (or even if you have), it's best to have a printed map of the general area you're headed as well as written directions – in case the GPS on your phone gets slow or your reception dies. In a new city, you never know where your cell carrier may flatline on you.
When I arrived in Austin, it was late at night and I was practically delusional after 2 days of driving alone with no company, radio or air conditioning (summer in Texas, mind you).
I didn't have any of that preparation and there were several times I wished I had. Reception got shoddy, I panicked, and generally freaked out …until thankfully everything worked out okay.
3. The emotions of showing up
Getting somewhere entirely new when you've lived your whole life somewhere else is a bizarre experience.
Sleeping in what will be your new city, when you have no realistic idea of what it's like or what you'll find or who you'll know or where your life is headed… it's overwhelming.
That said, it will be a relief to arrive, after the anticipation of travel and wanting the move to be over with. Congratulations on your arrival!
Step 3: Find Balanced Repetition

When you're in a new city, everything you do is new. If you've made much of a geographic move, even grocery shopping will be at a new chain with new brands.
Finding where the best place for your necessities is a matter of trial and error. We are creatures of habit, so once you find a particular location for product X, you'll find it difficult to branch out and find it anywhere else (even if it makes more sense to).
You have to learn to branch out.
When you first arrive, make it a goal never to hit the same convenience stores, coffee shops, gas stations or restaurants within the first few weeks. Try everywhere in reasonable driving distance. Try locations in apparent hot spots around town.
Once you've gotten a good feel for different locations, then start picking your favorites and frequenting them. The trick is not to pick a favorite too early. Familiarity all too quickly masks whether or not it's actually the right place to be.
Step 4: Discover the Unique Culture

If you haven't traveled in very many cities, this will be a little trickier. There's a lot of things that every city has – they all claim them to be unique, but in reality they are tourist traps that you can find almost anywhere.
What you want is local chains, local events, and local areas of interest to discover and enjoy. You want to find the things that makes your new city truly different from anywhere else.
The trick is… How do you find these things?
Locals!
Talk to people who have lived there forever. Locals know what's what.
Obvious points of interest.
A quick Google search along the lines of "Must see places in -your city here-" will usually generate a great list of ideas. They won't always be the most unique places, but they'll show you the places everyone knows about.
Read a community newspaper.
(Almost all are available online these days) …or a find website that highlights local events. For example, Austin has a great site called Do512.com, which is how I've found things like free improv shows, local bands, and hole in the wall venues I never would have known to look for.
Explore at random.
Be willing to walk around by yourself and take in the view. Go somewhere self-evident, like downtown, and just explore. Poke your head into interesting stores, discover how all the streets connect, and let yourself get lost.
Here's some generic online tools to generate ideas from:
Step 5: Learn How To Make Friends

When you're in a new city, you suddenly realize how much you took all of your friends and family for granted.
Start by apologizing to everyone back home for doing that (sorry everyone), and then get ready to wander way outside of your comfort zone.
Here's some ideas and tips for making new friends when you're totally new to a city.
1. Get comfortable with yourself.
If you're not comfortable with hanging out with you, how can you expect anyone else to be? You have to be okay with hanging out alone.
Go sit in a park and journal or draw. Learn to eat out at a restaurant by yourself. Wander a library or bookstore (if those still exist at the time you are reading this). Check out a farmer's market.
I've heard the argument that some people feel like a loser doing these things alone. You're not a loser, you are a freaking adventurer in new territory! Own it, and worry less about what people think of you. Everyone I've talked to is actually really impressed by the fact I go out by myself.
The takeaway: Learn to be entertained somewhere by yourself without being glued to your electronic device.
2. But where to find friends?
You can find new people just about anywhere. Sit in a coffee shop, sit at a bar, go to an open seating restaurant.
Seriously, make it your goal to talk to a stranger at least once every couple of days. Find out their name, whether they are from the city, and ask for advice on what you should check out (locations or events). It's a simple non-creepy conversation where you can learn about the city, and if you're hitting it off with the person, you've made a new friend! Congratulations!
Either way: No harm, no foul.
The more you talk to people you don't know, the easier it will get. The more you talk to people, the more opportunity you open for friendship.
Still not comfortable? Try arranging a public hangout with people online. Here's some sites I've used for this with success:
If you have a specific interest, there's often events going on for your niche. Just talk about your interests with people, and you'll be surprised at what they may be able to direct you to.
Someone I met on CouchSurfing told me about a freelance event happening in my area right when I got to town – where I then made some great contacts for future work. Someone I met on Craigslist told me about a parade happening that weekend, which I attended and made new friends at.
If you're 21+, as stereotypical as it seems, going out to some neat local bars is another easy way to make some new friends. Sure, it may cost you a few drinks, but that makes it easier to just take a shot at saying hello.
When all else fails? Try a random job that you always thought would be intriguing to experience. I tried car sales, and met a really awesome guy that is now my best friend in Austin and my new roommate.
*** Disclaimer: Please use common sense when meeting people online! Read this. ***
3. How to actually make friends!
Beggars can't be choosers.
That's a phrase I think we've all heard before, and you should take it to heart when you're trying to meet people in a new city.
Here's my philosophy behind how to make lots of friends and open up your world to the potential of awesome people:
Be genuine.
Genuine people are attracted to other genuine people.
Don't try to fake who you are or what you're about. You're in a new city, you don't need to try and please people who don't like you for who you are.This isn't back home where you've been ingrained into the same group of people that you kind of have to get along with for the sake of the fact you've known them forever.
Don't judge people (instantly).
Be yourself, but try not to judge other people instantaneously. You don't know their background, their story, what they've been through, or why they do what they do.
You don't have to like everyone, but try to avoid things like hate and anger. Judging people isn't worth your time, effort or emotional investment. Give people a chance to see that you're a safe person. You may find that once they realize they can be themselves around you, you may like who they actually are.
Remember: People lead to other people.
At the end of the day, you're really not in a position to be picky about your friends. Even if you're not going to become really close with someone, unless there's a good reason to shut them out, don't.
Here's the funny thing about people: They know other people. The more people you know, the more chances you have to meet these other people. Who knows? One day, these connections may introduce you to your new best friend, a new lover, a great job, your new roommate, or your life partner.
Anything is possible.
Step 6: Do Things You've Put Off

You're in a new city! Ride the wave of excitement and take the opportunity to do things you otherwise put off over the passing years.
Always meant to go kayaking? Go kayaking. Meant to hike more? Use it as a chance to explore your new city.
Whatever it is, find the best way to combine your interests with getting to know your new city. Now you're knocking out two birds with one stone!
Not to mention – these are great activities to invite people to, and opens up the opportunity to meet new friends with like interests. There are so many things to try, groups to join, people to meet and sights to see. Your possibilities are endless.
Do it cheap:
You can usually find great deals on coupon sites that will make these things affordable. My favorites are:
Meetup.com and CouchSurfing.org are great ways to find people to go with. Learn a new skill, try a new adventure, and have fun – even if you wind up going by yourself.
Step 7: Accept That Everything Is Temporary
It's easier when you remember that everything in life is temporary.
The people you meet could be single-serving or wind up being really important to you. The place you're currently staying may only turn out to be where you live for a couple of months. You may leave your job for one reason or another within a matter of weeks.
I find that I stress less when I plan on the fact that nothing in my life could be the same from one day to the next. Stability is a farce, which is why finding solace in it creates such a shock once something goes wrong. Like my mom always said: Plan for the worst, hope for the best.
Expect nothing, hope for everything, work your ass off for tomorrow, and do the things that make you happy today.
Creating home.
Home is where you feel safe and loved.
I've been creating my own new Austin family. I feel comfortable, confident and familiar with the basics of Austin. I am happy.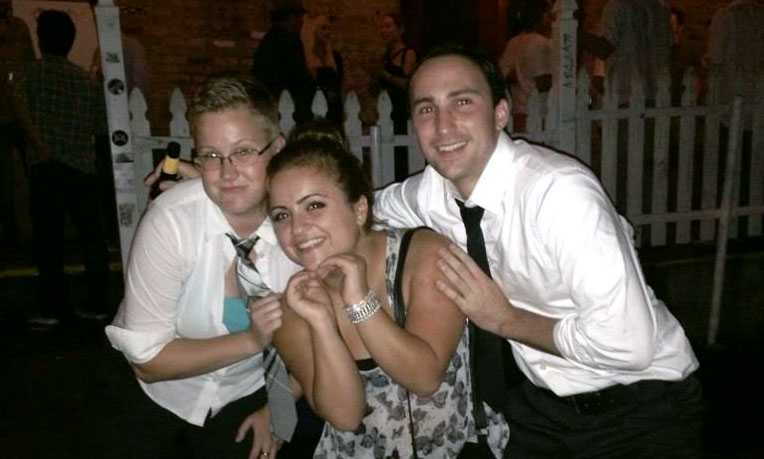 My takeaways for building your life alone in a new city: Stick with it. Learn to like yourself and be independent. Be genuine. Explore geographically. Branch out and talk to new people.
You know what's even harder? Moving somewhere you don't speak the language. To learn more about moving to a foreign city, check out the complimentary guide by clicking that link.
Have you ever moved to a city alone? What advice would you add to mine?